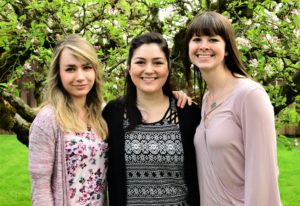 If you are a new client, you will need to fill out all applicable forms in the following list before your first appointment. These forms can be printed and brought in, scanned, or faxed to our office. If you are not able to fill out these forms ahead of time, you can request to complete them in person, at our office. Please arrive 15-20 minutes early to your first appointment to allow time to thoroughly read and complete paperwork. Our friendly office staff are happy to assist you with any concerns. Please call us at (360) 281-6824 if you have any questions while reviewing your new client paperwork.
If you and your partner are coming in for couple's counseling, the primary client will fill out the new client packet and the visitor/guest/partner will sign the Agreement between Therapist and Couples/Family/Visitor to Treatment. 
Children over the age of 13 are permitted to sign for themselves in accordance with Washington state law.
*Required for new clients
**Additional forms required for minor clients (12 and under)
Digital Packet (please help us save trees):
Paper Packet
Review of Disclosure Statement – *All clients must first review their counselor's personalized disclosure statement and sign this form. Disclosure statements can be found here, in your counselor's details.
New Client Information – *All clients must fill this out thoroughly with your most updated contact and insurance (if applicable) information.
Appointment Policy – *All clients must sign this statement which outlines our policies about cancellations and no-shows.
Financial Policy – *All clients, regardless of payment method, must sign this financial statement detailing our requirement of payment at time of service, and our policies on handling health insurance.
Authorization for Primary Care Physician – *All clients must sign this authorization either waiving, or permitting notification of protected health information to their primary care physician (PCP).
Insurance ROI – All clients using health insurance as a form of payment must sign a release of information (ROI) to their health insurance provider.
General ROI – Clients who attend couples counseling must both sign a general release to each other. In addition, children over the age of 13 may use this release to share some treatment information with their parent/legal guardian.
Authorization for Reminder Services – Clients who would like to receive email reminders of their appointments and phone messages must fill out this authorization.