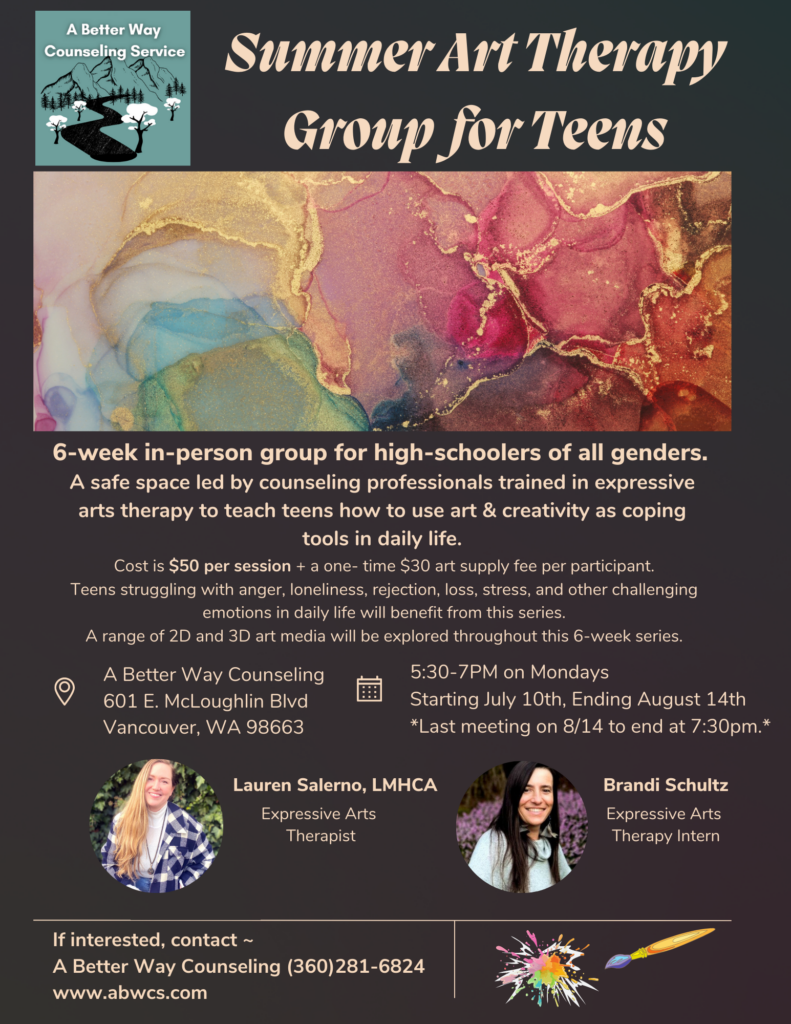 Group Details
This group will be from 5:30 to 7 PM on Mondays starting July 10th. 
This is a 6-week group that will meet in person.
This group costs $50 per 90-minute group session and a one-time $30 supply fee per participant. A sliding scale can be offered if financial assistance is needed. 
Art supplies will be provided for in-session exploration and expression.
Forms
Children over the age of 13 are required to sign for themselves in accordance with Washington state law.
If you are interested in joining the group or would like to ask Gina some questions before signing up, please fill out the Sign-Up Form Here.
Please fill out the Pre-Assessment Here. 
Please sign the Intake Form Here.
Who can join?
Individuals who are high-school age, generally 14-18 years.  Teens who are 13 years old or have just graduated from high school can fill out the Sign-Up Form to be screened for appropriateness for group participation.
Adolescents who are struggling with coping with everyday feelings including (but not limited to) stress, overwhelm, anger, sadness, loneliness, and rejection, and want to learn ways to use art and creativity to cope.  
All genders are welcome.
No prior art training or skill is required to benefit from art therapy.
Goals
To offer up a safe space for teen participants to learn ways to intentionally utilize art and other creative tools to cope with common feelings in daily life at school, at home, and in relationships with others.

To invite teens to gather with their peers in a community that supports free expression (both verbal and symbolic) to reduce isolation and loneliness in this population.
To provide psychoeducation and helpful practices that can be incorporated into the participant's daily routine to cultivate mindful, nonjudgmental awareness and acceptance of all emotions.  
This is led by,